Besties is a tribute to unconditional love. Join in the love with Tula Pink's new collection.
Date Posted:25 October 2023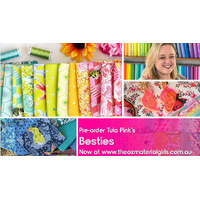 At its core, Besties is a tribute to unconditional love.



It represents both the love we give to the beautiful creatures that depend on us and the unmeasurable love and comfort they give us in return. In addition to our beloved dogs and cats in Besties, you will also find goldfish, bunnies, turtles, and hamsters.
Pre-order Tula Pink's new collection 'Besties' now.
Main stock by the metre and bundles are due 3rd November.
Pre-cuts, wide backs and limited edition kit are all due Dec/Jan.


TULA PINK FABRIC LOVERS


Discover all things Tula Pink - from past and present fabric collections
We have a wide range of animal themed fabrics in stock. Here are a few of our favourite animal themes!
Pandas
From novelty stand alone prints to Tula Pink's Lineworks, there are some cute panta prints avaliable.
Dogs
In the dog category, we have a button, block panels, nursery designs and realistic images of working dogs.
Birds
We have the every popular 3 block panels featuring digitally printed illustrations for designers like Natalie Jane Parker, Karin Roberts as well as some stunning bird designs from cartoon to some ultra-real collages.
TOMG ANNUAL CHRISTMAS PACKS AVAILABLE AGAIN!
TOMG Annual Christmas Packs Now Available
Packs are Filled with over $300 worth of goodies for only $150

Packs will include fabric ( a variety of themes and designs , including Christmas designs), patterns, sewing notions and craft supplies delivered to your door.

Spoil yourself or give as a gift to one of your crafty friends or loved one
Limited Packs Available - Order today
We are clearing a huge amount of stock to make way for new arrivals - hundreds of fabrics now 1/2 price ! Stocks are limited and once sold that is it so grab them quick.
Browse some of our popular categories!
---
Leave a comment