Are you a Barbie Girl? Find out more about the new Licensed Malibu Barbie™ fabrics in this newsletter
Date Posted:15 February 2022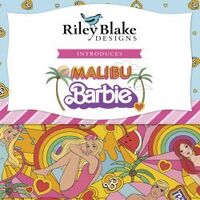 I'm a Barbie girl, in the Barbie world
Life in plastic, it's fantastic
You can brush my hair, undress me everywhere
Imagination, life is your creation.
The Malibu Barbie™ collection from Riley Blake Designs is here!
Great for quilting, apparel and more...this print features a splash of colour with Barbie, Ken, Christine, and P.J. from their 1971 debut.
This is an official licensed product.
Malibu Barbie features the international icon herself, Barbie. This collection includes Barbie postcards, icons, hearts, and stripes. The colours represented in the collection are pink, white, blue, and yellow.
Coming Soon

We have another great Easter range coming soon to inspire your Easter Sewing.
The wait is over! The full Paisley Rose collection by Crystal Manning for Moda Fabrics is here!

Blooming roses add a dash of romance, and ornate paisleys create a bohemian vibe. The luscious colours and vibrant patterns of paisley rose will add boho style to your wardrobe and home decor.
Also now in stock is the full range of Cottage Linen Closet by Brenda Riddle Designs for Moda fabrics.

With Cottage Linen Closet - I set out to try to capture the feel of those quilts & the soft, cosy, & (albeit a little faded) colours of those quilts. It's what I've had going around in my imagination for all the years I've designed quilts.

I hope that you will embrace & surround yourself with the colours, & comfy feel of Cottage Linen Closet fabrics - as they are - or as a starting point for creating cosy heirlooms for your family & loved ones - Brenda
Julie from Frances Lily Designs has created these gorgeous new quilt patterns for us and we have kitted them up in the Native Nursery fabric range.
These are super cute but stock is limited.
Have you checked out our FABRIC REMNANTS? We restock hundreds of these per week and they sell out very fast as most are the last we have ! See what is left here
---
Leave a comment