Last Minute Gift Ideas
Date Posted:13 December 2017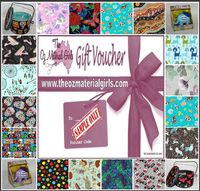 The silly season is well and truly here...are you looking for some last minute gift ideas?
95% of pet owners have bought a Christmas gift for their pet...but how many get one in return? It's not cheating if you help them out ;)

If your family or pet is struggling to get you the perfect gift why not let them know a
TOMG gift voucher is the perfect choice!


Vouchers will be emailed after checkout is completed. If a custom voucher is needed (for a specific amount) it is as simple as contacting us and we will set it up.
We have boxes of FQs left over from our regular listings so have set up mystery packs on our website. Choose from mixed, flannel, kids, flowers and basics! These are beautifully packed and also make a perfect gift for your crafty friends
Purchase a pack before Christmas and receive a FREE Gift too !
Also available are these amazing mystery boxes. Packed with gorgeous fabrics, patterns and sewing supplies. Get double the retail value!
Or you can try these mystery scrap bags. Approx 500 grams of fabric remnants and off cuts , all very useable pieces and many full width
Love Fabric Remnants? Spoil yourself with must have fabrics - most are the last we have so grab them before they sell out :)
Untile Next Time
---
Leave a comment