If they can sell hot cross buns at the supermarkets...it must be time to think about Easter sewing!
Date Posted:10 January 2018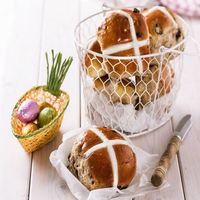 Have you started collecting your Fabric Shoppers Club rewards points?
Did you see that when you purchase from our website (as of 1st January, 2018) you qualify for rewards points for every dollar spend. Points are automatically added to your online account once an order is paid in full. These points equate to 5% of the order (less postage) and can then be redeemed against future paid orders and are valid for 3 months.
Be rewarded for shopping with The Oz Material Girls and start saving today!
Here is this week's showcase fabric range which is a great example of the 2018 colour of the year.
Pre-orders are open now for Pansy Noir by Kanvas for Benartex fabric. Due to be released on 15th April, 2018.
Kit includes all fabric, binding and the pattern (free) to make the quilt top. If you would like us to match a backing or need wadding just let us know.
100% Cotton. Finished Size is 50" x 76"
Guess what has just stepped off the plane in Oz? Yup, that is right! Tilda's LemonTree range has hit our shores and all of your pre-orders will be dispatched as soon as they make it to our warehouse. There is still time to get your orders in. Be amongst the few to get this delicate new range first.
Shop Now!
Did you see they are already selling hot cross buns and cadbury cream eggs at the supermarkets! We are taking this as a sign that it must be time to think about your Easter projects!
We have the start of our Easter fabrics...stay tuned for more in the coming months.
by Michael Miller features gnomes ready for Easter. 1 unit = 60cm x 112cm
by Michael Miller features adorable bunny rabbits and chickens and flowers on a white background
by Tone Finnanger for Tilda features gorgeous bunny rabbits and flowers on ginger orange
by Lewis and Irene features grey bunny rabbits, chicks and flowers on off white.
---
Leave a comment