Aussie Aussie Aussie ! Celebrate our Aussie Athletes
Date Posted:24 July 2021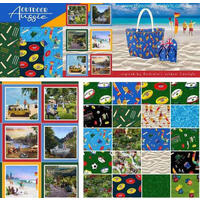 Let's celebrate our Aussie Athletes in Tokyo for the Olympics with these gorgeous Aussie fabric designs
For Sports Lovers


Outdoor Aussie is as Australian as it gets! For the surfers, the cricketers, footballers, the campers, our BBQ'ers, there's something in this collection for every Aussie. These adventurous fabrics explore hiking through the outback, families gathering for a backyard BBQ, river fishing, camping, relaxing on the beach and 4WDriving.
Celebrate and Aussie Christmas
Aussie Friends Festive Fun designed by Elise Martinson, this adorable Christmas range features Koalas, Kangaroos, Tassie Devils, Platypus and the cutest Quokkas !
The beautiful floral print from the Little Aussie Friends range by Elise Martinson Illustration range has been given a whole new look in elegant neutral colours on the Devonstone Collection linen cotton blend. Perfect for quilts, home decor, accessories and more, Little Aussie Linen is arriving very soon !
WOW! We are so excited about Wildlife Art series in stock now. These range features more gorgeous Australian Animals and this time there are some more of the large and new smaller blocks.
You can use it to Natalie Jane Parker has been a wildlife artist focusing on Australian fauna and flora since 1996. Her home and studio is nestled on 50 acres in the picturesque Hunter Valley, which views provide daily inspiration for her art. One of Australia's most successful wildlife artists, Natalie's work is unique in that it is cherished by memento-hunting tourists and serious art investors alike.add text to your template.
Celebrate Aussie Flora and Fauna


Chris Riley Art returns with a stunning new series of animal portraits in the Chris Riley Collection 2 for Devonstone Collection! Beautiful birds, ocean creatures and a favourite marsupial, all on versatile block panels.
The new Orenda Joy Green Collection is selling fast !As a nature lover, her attention is usually focused on creating art depicting flora and fauna, and more often than not my subject is relating to birds.
Based in Adelaide, she is fortunate to be surrounded by many varieties of feather friends on a daily basis. Most days, Orenda can be found happily sketching away on her iPad. Every piece of work she creates comes from a place of joy as she finds it difficult to create art if her heart isn't in it.
Karin Roberts of Art Tonic also has a gorgeous new range of vibrant animal portraits for you to create with! Four stunning new block panels make the Karin Roberts Collection 3 the perfect choice for bags, quilts, cushions and more.
Karin is a graphic designer of 17 years and an accomplished graphic artist. Art Tonic is a collection of various art works from detailed hand drawn animals, to grungy abstract art, all with a common theme - Karin's love for animals, nature and humanity.
Iconic Blinky Bill


An Aussie Favourite Blinky Bill features the original pen and ink artwork of your favourite mischievous koala and his friends. This range is sure to bring back nostalgia of their adventures around Greenpatch!
Honouring our Aussie War Heroes



'Women's Wartime Service'. This powerful collection honours our unsung heroes and recognises their strength and effort in supporting our military forces. Acknowledge any strong women in your life with a project sewn with these proud and compelling designs.
Air Force Centenary is a very special collection honouring our Air-Force and those who sacrificed their lives during the battles of WW1, WW2 and recent conflicts.
An important time to reflect on and honour the service and sacrifice of our air-men and air-women during the last 100 years.
Wonder through Australia's Native Gardens
Be mesmerised by the beauty of "Botanicum Bliss". Featuring Australia's vivid wildflowers, these gorgeous prints will be a great addition to any creative project. Featuring Rebecca Brady's signature style and on trend palettes, this collection akes a contemporary twist on Australiana. Let your imagination run wild!
The Sweet Botanical Collection by Annette Winter, features Australian plants, including pretty pink flowering gums, whimsical and realistic callistemons (bottlebrush) and fun and funky proteas with seed pods full of character
Celebrate our Aussie Farmers
Step into the life of our Aussie farmers and create you own farming world right at your sewing machine with the Merino Muster Collection featuring the iconic Aussie shearing sheds, working dogs, prize merino sheep and wool, plus a variety of extra coordinates to compliment.
More Aussie Birds

The Kookaburra family are joined by some other Aussie Feathered Friends including their little Kingfisher cousins, the pink Galahs and some Spotted Pardalote's. They love sheltering and keeping watch in the pink Flowering Gum and then catching up on all the local news on the wire.
Lorikeets Aloft designed by De Gillett Cox - Feel the wind beneath your wings as you fly aloft with the cheeky, rowdy birds of "Lorikeets Aloft". Featuring many of Australia's native lorikeets in all their feathered glory.
Take to the sunny Australian skies with our lively feathered friends the Cockatoos. Captured by Australian artist De Gillett Cox in her original paintings, the outrageously bold characters depicted within the collection "Cockatoo Chatter" will bring a new level of individuality to any creative project.
From cockatoos to blue wrens, our new and ever so colourful Australian Birds of the Bush Collection has now been released. Like our aussie birds, this collection is sure to become a favourite and will make way for a range of beautiful, bright projects.
---
Leave a comment