Fabric, like friends...you can never have enough! See the latest additions which are waiting to be added to your stash!
Date Posted:27 April 2021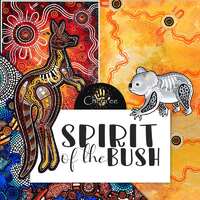 Are you ready to see some stunning fabrics?
We love showcasing hot new fabric ranges that we have secured. Time to grab a cuppa, put up your feed and check out this week's stunning fabrics.
Look what's new this week!
"In Kalkadoon country the song of 'The Spirit of the Bush' can be heard, it is the thread that binds all things together. It can be heard as a whisper sung across the landscape, it can be heard blowing through the tree's and it can be seen skipping invisibly across the billabongs and rivers forming little ripples." Modern Indigenous art by Chern'ee
Fabric panels in a variety of sizes making them great for so many different projects. The coordinating fabric range is sold by the 1/2m and kept continuous if multiple units are purchased.
Quilt kits
are designed by the talented Frances Lilly Designs and available for pre-order now. Kits will be shipping at the end of the month.
Gem Stones Brights
Rosette Panels in 3 colourways have hit our shelves . The Gem Stones Brights Rosette Panel is great for quilting and home decor. The panel features applique floral designs that coordinate with the Gem Stones Bright Collection. 3 panels and 2 quilt kits ( perfect for beginners) now available
How gorgeous is
Sew Kewpie
by Riley Blake, featuring the cutest Kewpie dolls sewing up a storm.These print features Kewpie in sewing-themed vignettes and are official licensed products.
These awesome John Deere nursery fabrics will be here next month and are a great choice for any little girl or boy because nothing runs like a Deere!!
Because John Deere isn't just for kids, we have secured these great vintage licensed prints too. These are also due to arrive mid-May and open to pre-order now.